Arts & Culture
Four Old Broads & SHOUT! hit the stage starting July 20 for Summer Theater Festival
The 2023 summer theater festival officially takes the stage at the Grand Marais Playhouse this weekend with SHOUT! and Four Old Broads. WTIP spoke with cast members of SHOUT! and Four Old Broads to learn more about the upcoming theater festival. Audio from the interviews is below.
SHOUT!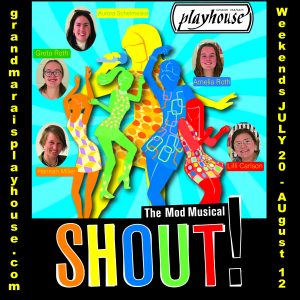 Performance dates July 20, 22, 28, 30 & August 3, 5, 11, 13
Cast:
Orange Girl – Hannah Miller
Blue Girl – Amelia Roth
Red Girl – Lilli Carlson
Green Girl – Greta Roth
Yellow Girl – Aurora Schelmeske
With its irresistible blend of hip-swiveling hits, eye-popping fashions and outrageous dance moves, SHOUT! The Mod Musical takes audiences back to the music, style and freedom of the 1960s.
Four Old Broads:
Performance dates of July 21, 23, 27,29 & August 4, 6, and 12
Cast:
Beatrice Shelton – A former burlesque star with an attitude – Beth Faraone
Eaddy Mae Clayton – A former nurse and "religious" lady – Jean Grover
Imogene Fletcher – The newest resident at Magnolia Place – Laura Popkes
Pat Jones – A rude and pushy nurse – Kristina Mattson
Maude Jenkins – A funeral and soap opera obsessed frump – Theresa Luther-Dolan
Sam Smith – Retired Elvis impersonator and Casanova –Gary Latz
Ruby Sue Bennett – A quiet, romance novel loving nurse – Jane Gellner 
Adventure, comedy, and mystery ensue at Magnolia Place Assisted Living in this entertaining performance of Four Old Broads.