Local
Wild bee survey underway in Hovland Scientific and Natural Area
People visiting the Hovland Woods Scientific and Natural Area (SNA) in Hovland may be surprised to see someone in a flower-filled field waving an insect net. Visitors also may see some curious white stakes along the trail. What is it all about?
A sign at the SNA directs curious visitors to contact Nicole Gerjets, the Bee Specialist/Project Manager for the Minnesota Biological Survey to learn more. WTIP's Rhonda Silence did just that and learned that this statewide project has been taking place since 2012, with assistance from the Minnesota Environment and Natural Resources Trust Fund since 2015.
See the Bee Survey handout which explains more about the project and includes a map of the locations where bee surveys have been completed. The goal of the survey is to log the diversity of wild bees in all areas of the state.
Gerjets explains that 450 species of bees have been found across the state so far. This summer's work in the Hovland area is the first in Cook County. Gerjets says the Minnesota Biological Survey is excited for this opportunity to learn what species are here in the Hovland area.
Listen to the interview to learn more about the methods of capturing bees, about what happens to data collected by the Minnesota Biological Survey–and about what it takes to become a bee specialist.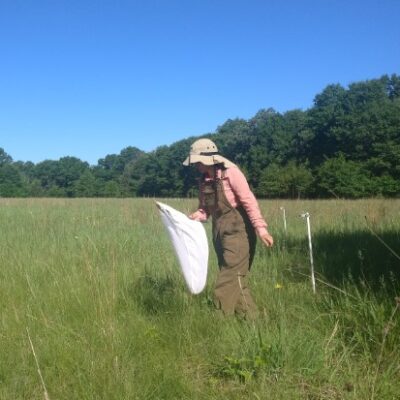 2019 bee project handout